Afterword to Book One of the Rising Flame Dulogy

by Sylvia Engdahl

(In early printings this appeared as a Preface)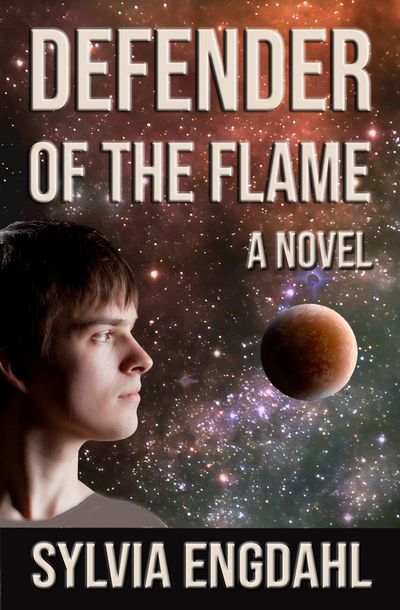 My initial idea in writing the Hidden Flame duology, which precedes this one but is independent, was to explore in a story for adults some of the ideas in my Young Adult novel Enchantress from the Stars and the related novel The Far Side of Evil, both of which have had many adult readers. Specifically, how would a future society similar to our present one take the first steps toward becoming a "mature" civilization as described in those books? How would we begin to develop the paranormal mind powers that characterized that civilization? It would have to start somewhere in a small way; the human race wouldn't be transformed overnight.

To this end, I gave the characters in Stewards of the Flame and its sequel Promise of the Flame the same powers possessed by the heroine of the earlier books, though in a less advanced form. In the Rising Flame duology -- Defender of the Flame and its sequel Herald of the Flame -- I have expanded this theme further. Many readers of Enchantress from the Stars have been curious as to what I conceive as the key factor in the distinction between a "youngling" human species and a mature one, which in that book is assumed to be clear-cut. I have never pictured it as arbitrary, as if the older species simply considered themselves more advanced by some subjective standard. Nor do I consider it a merely cultural difference; contrary to the assumption of some readers of Enchantress from the Stars, that story is not applicable to relationships between cultures that might simultaneously exist within a single species. I believe there is an actual difference between a young "human" species and an older one based on its evolution over time, just as there was an actual difference between prehistoric humans and those that developed language and the use of tools. In my opinion this evolutionary process has not ended. In a future era when interstellar travel is commonplace, humans will develop greater capabilities than most of us have today.

Of course, we do not know what the culture of these future humans will be like, and so in fiction I portray it as like ours. There will be technologies then which we now cannot even imagine, and people's customs will be different from the way I describe them. Unlike many authors of science fiction, I do not attempt to show difference merely for the sake of difference; since imaginary cultures are no closer to future reality than is ours, I see no advantage to lessening reader identification with my characters. Culture is merely the framework of a story, like the language in which it is written, whereas its substance concerns human potential and human values. I therefore make no apology for my use of familiar science fiction devices, such as starships that travel rapidly between stars in violation of our present conception of the laws of physics. Such tropes are simply a means of communicating with today's readers; they do not pretend to be a description of future technology.

The story's portrayal of paranormal capabilities, on the other hand, is closer to what is actually known, although in some cases intentionally exaggerated. Telepathy, clairvoyance, and precognition are known to exist. Remote viewing has been put to actual use. Information about this, including a list of excellent nonfiction books by respected scientists, can be found through links on the Web page for Stewards of the Flame.

I hope that adults who have enjoyed Enchantress from the Stars and The Far Side of Evil will also like the Rising Flame duology whether or not they enjoy the preceding one, the first volume of which, Stewards of the Flame, is focused on an additional controversial theme concerning today's medical philosophy that is not pursued in this book.



---
Copyright 2013 by Sylvia Engdahl.
All rights reserved.